CMA CGM reaffirms commitment to acquiring CEVA Logistics
Marseille, France-based global container shipping company CMA CGM[1] remains intent on acquiring CEVA Logistics[2], a global third-party logistics (3PL) services provider based in Hoofddorp, the Netherlands for £1.65 billion, according to various reports and filings. CMA CGM already owns 33% of CEVA. In October 2018, CMA CGM officially stated its desire to acquire all of CEVA five months, saying at the time that the "solicitation and offer to buy CEVA securities will only be made pursuant to an offer to purchase and related materials." This announcement came five months after it announced the company had reached an agreement to acquire a roughly 25% equity stake in CEVA. CMA CGM said in October it successfully acquire all of CEVA, the company said that transaction would provide myriad benefits for CEVA to "accelerate its transformation" in various ways, including:bringing CMA CGM's operational expertise and its experience in corporate transformations to help CEVA achieve its recovery plan faster and more efficiently;creating new commercial opportunities: as a leader in the sea transport sector with an international commercial network, CMA CGM will generate new opportunities for CEVA Logistics;adding value to the commercial complementarities between CEVA Logistics' and CMA CGM's freight management activities: CMA CGM will transfer its freight management activities to CEVA Logistics, thus strengthening the company and creating economies of scale; andsupporting CEVA Logistics' reorganization and development strategy: CMA CGM will support additional investments aiming – among other things- at implementing CEVA Logistics' digital and IT transformation which will stimulate its commercial success and operational efficiencyLast week, the European Commission signed off on this deal, following an announcement made late last month by the CEVA board of directors.And late last month the CEVA board of directors said that CMA CGM's public tender offer of £30.25 (USD) per share for the remaining 67% of CEVA not owned by CMA CGM is "a fair exit opportunity for shareholders who wish to receive cash for their CEVA shares, adding that this deal aids the growth potential inherent in the CEVA business, the effects of the acquisition of he freight management business of CMA CGM, the strategic partnership between CEVA and CMA CGM, a stronger footprint in Ocean Freight Management, and an intensified business relationship with CMA CGM while keeping an arm's length relationship.CMA GGM leadership cited the benefits of this deal."By developing a logistics offering to complement our maritime activity, we will be able to propose a full 'end-to-end' service to our customers," said Rodolphe Saade, CMA CGM's chairman and chief executive. "The board of Ceva Logistics is fully aligned with this friendly offer."CMA previously stated that the objective of its move in April 2018 to acquire 25% of CMA CGM was to "grow its presence in the logistics sector, which is closely related to shipping."CEVA is a major presence in the global 3PL market, with revenues north of £7 billion and is ranked fifth in contract logistics. It manages more than 9 million square-feet of warehouses in more than 750 global locations, and is ranked tenth on global freight forwarding, with a strong presence in Asia.This global container shipping sector continues to find its footing, as it has dealt with myriad issues, including: overcapacity; industry consolidation; rates pressures, due to supply continuing to outpace demand for services, among other factors.As previously reported, CMA CGM is not the only global container shipping company looking to spread its wings on the on the logistics side.Last year, Maersk[3] said it intends to "transform" its logistics and supply chain model to compete with package delivery behemoths like UPS and FedEx and recently.
But industry analysts maintain that shifting away from its core competency presents a major challenge in that global ocean carriers like Maersk lack the long-established shipper relationships on the same level that the industry's largest global 3PLs and integrators do. Part of the impetus for companies like CMA CGM and Maersk to branch out stems from the dynamic growth in e-commerce driving demand for more agile deliveries. Evan Armstrong, president of supply chain consultancy Armstrong & Associates[4] told LM in a previous interview that this interaction could ultimately be more advantageous for CMA CGM."I would rate this…as an attempt by CMA CGM to get further upstream in the supply chain management process from tactical ocean shipping 'to true global supply chain management and tap more strategic relationships with CEVA's customers," he said. "From a CEVA perspective as a 3PL and the 14th largest ocean freight forwarder in terms of TEUs managed, this new relationship may provide it with better buy-side ocean pricing; however, ocean shipping is still in a overcapacity situation and rates continue to be fairly depressed. All in all, I think this will have more benefit for CMA CGM than CEVA.
Apollo Management has been shopping CEVA for some time and this investment allows them to take some money off the table."
References

There are numerous, down to the last detail recreated, trucks, construction equipment, tractors and much more in the large assortment of brother. The ideal supplement for this purpose, the game figures, the entire game landscape again more fun and realistic, as well as the role play and creativity of the children.
The mechanic helps if repairs are necessary. For this purpose, it is perfectly equipped, he has but Jack, Jack Stands and tool are always available.
In this way you can quickly resolve any defect and the vehicle quickly returns to the application. This text is machine translated.
-
More Info - EAN: 4001702621001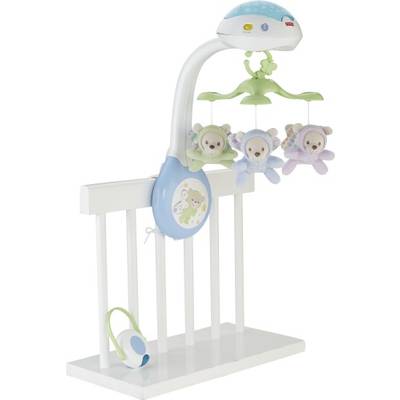 Let's go to the land of dreams with the 3-in-1 Dream Teddy Mobile from mattel. The three dream teddy want your child a quick and restful sleep. Each Pluschbar is in a funny strampelanzug and has colorful wing on the back. With a small clip, the mobile, when it is no longer on the cot is used to almost all popular baby carriage mounted. The removable projector can be used in conjunction with the mobile, but can also be used alone, for example, on a table.
This text is machine translated.
-
More Info - EAN: 887961046076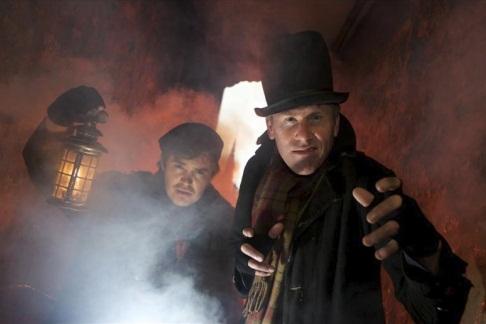 A daytime tour of Edinburgh's most haunted vaults – and we're the only people with access. This tour is perfect for a peek into the city's ghostly past, because things don't only go bump in the night.  The true history of the Blair Street Underground Vaults is terrifying enough – so abandon thoughts of manufactured frights and make-believe.
The skill is in the storytelling: the vaults witnessed the deeds of mischief-makers and murderers, vagrants and torturers. It's one of Edinburgh's most haunted sites, where restless spirits still tread.
Want see Edinburgh's haunted vaults? Explore them exclusively with Mercat Tours.
First you'll follow your cloaked Mercat guide through the shadowy closes of Edinburgh's Old Town. These are dark streets untouched by daylight, filled with a strange silence, their damp walls carrying only the faintest echo of the crowds on the high street you've left behind. With the scene set, you'll descend into the depths of the city – and listen in horror to its dark and sinister side.
Torture. Murder.
Hangings. From body snatchers to the real-life Jekyll and Hyde, you'll be gripped by the true tales that lie hidden beneath Edinburgh's streets. Watch out for a cold breath on the back of the neck, a whisper, a flicker – then silence. It's all the more chilling for being absolutely real: there are no tricks or jump scares on our ghost tours.
Why not combine your visit to the Edinburgh Walking Tour with other famous attractions and activities in Edinburgh such as Royal Yacht Britannia or Edinburgh City Sightseeing Tour?
-
More Info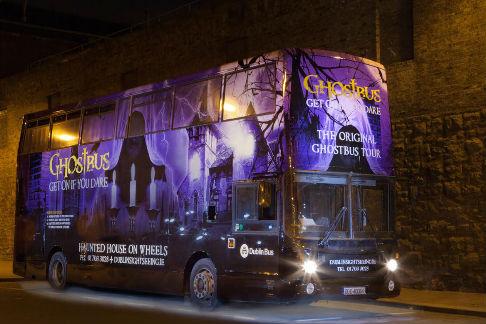 Welcome to Dublin's Tour of Terror! The Lady in White, graveyard torturers and grizzly ends on church grounds...
Allow us to put you at your unease on The Dublin Ghostbus Tour. A Gothic interior, blood red velvet curtains and a driver and guide in tune with the afterlife.
This is no scary movie, folks – this is for real.
It's a little known fact that Dublin was home to one of horror fiction's most famous names: Dracula author, Bram Stoker. Learn about his origins as the tour creeps through Dublin's darkened streets.
At the College of Surgeons, a certain Dr Clossey is still said to roam the corridors carrying a bucket of human entrails. More grizzly dealings were dealt at the 12th-century St Audeon's Church, where the ghost of Darkey Kelly is said to wander restlessly. The Lady in White still stalks her cruel husband at St Patrick's Cathedral graveyard.
And steady yourself for a meeting with The Walking Gallows, the notorious judge, jury and hangman who dispatched his victims in gruesome style. Scared yet? Don't worry, you will be.
Tour Treats Unearth Dr.
Clossey's gruesome past Discover Dracula's Dublin origins Theatrical experience with professional actors Unravel the mysteries of Dublin's haunted cathedrals Visit the vaults at Dublin Castle* Visit St Kevin's Graveyard FREE Walking tour *Please note alternative venues may be used when Dublin Castle is unavailable
-
More Info
Zineryt belongs to a group of antibiotics for the treatment of acne, often referred to as pimples or spots. Zineryt is used to reduce the growth of bacteria which causes the initial acne.
-
More Info